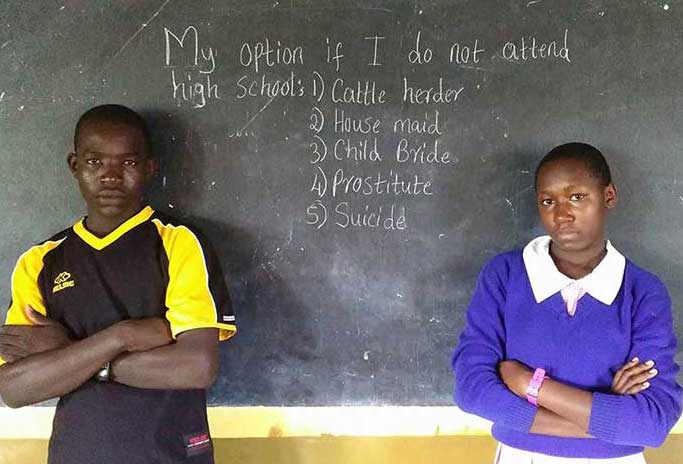 Our options when we don't attend High School.
Sponsor a High School Student and Give Them a Future
The students at The Joy School receive education up through 8th grade. Once they graduate from The Joy School, their future relies on receiving sponsors to attend high school. Nyatambe High School on Lake Victoria is a quality public school that offers a Christian-based education for 9th - 12th grade. Peter Midodo, the founder and President of The Joy School, is on the board of directors of Nyatambe High School. Our goal at Hope for Kenya is to see all sponsored students attend Nyatambe High School and have the chance to succeed. The cost to attend high school student is $60 per month. As a sponsor, you can choose to donate the entire monthly cost, or share this with another sponsor.
We are now asking for sponsors for the next school year 2017-2018.

Students who need sponsorship for the 2018 school year will be posted here in the January of 2017.
How do I begin?
You have two options.
Use Paypal by filling in the form below, choosing monthly or yearly donations from the drop down menu, entering the name of the child you would like to sponsor, and then clicking on "Sponsor a Child". There are many other children that need sponsors that are not shown on this webpage. If you would like us to choose a child for you, simple leave the child's name area blank. You will then be taken to the Paypal website to complete your sponsorship.

Paypal will show Hope for Kenya that this is a "child sponsor" donation and provide us with your address so we can send you pictures and letters from your child.




You can send an annual donation of $360 or $720, or $30 or $60 monthly donation by check to Hope for Kenya, PO Box 300, Lake Luzerne, NY 12846
All donations are tax deductible and 100% of the monies we receive go to caring for your child. If you have any questions please email us using the contact page.
When you sponsor a child you are giving their entire family the opportunity to escape the bottomless pit of poverty. Hope for Kenya will connect you with a child in desperate need of your help. You will receive a card with your child's photo and will have the opportunity to write and receive letters as well as an open invitation to visit your child in Kenya. For only $30 or $60 per month your child will attend school and receive an excellent education, as well as a hot lunch and clean drinking water.
Will I be the only person sponsoring the child I'm helping? For students up to 8th grade, yes. The child you're helping has just one sponsor: you. That's why your prayers, letters, and support mean so much to your sponsored child. For students in 9-12th, since the cost of sponsorship increases to $60 per month, we give sponsors the options to share that students with another sponsor. In those cases, a child will have 2 sponsors. You choose to sponsor a child as a family or a group (for example, a youth group or a Sunday school class), the child you help will still be relating to your family or group as his or her only sponsors. No other group or individual will also sponsor the child you help.
How long should my child sponsorship last? Hope for Kenya's child sponsorship offers you the opportunity to stay with a child for a number of years, usually through the school year in which the child reaches the age of 18 to 22. While we hope that you will be able to continue in your support of your sponsored child until he or she completes High School or College, we recognize that sponsors' circumstances sometimes change. You may discontinue your sponsorship at any time. We ask that you notify us if you are unable to continue your sponsorship. Please understand that a sponsored child's circumstances may change, too. We will inform you as quickly as possible if any such circumstance affects the child you sponsor, and we'll transfer your support to another child in need of your help. Hope for Kenya focuses on the full development of the child. Because of that, our goal is to release children from poverty, not merely sustain them through it.